Sarah Childs
Concept Artist and Illustrator
Gyzra Ink is the home of the art and stories of UK based artist Sarah Childs (pictured right at MCM Glasgow 2015).

Professional artist for 10+ years under the Gyzra Ink banner, Sarah specialises in detailed fantasy artwork with a particular love of creating and illustrating characters for video games.
Her greatest influence stems from her love of games. As an avid gamer for her entire life she can't help but be inspired by the imaginative worlds of The Legend of Zelda, Pokemon, Final Fantasy, League of Legends, Dot Hack, and new creations she is still discovering every day.
Sarah debuted at MCM London Comic Con with The Chronicles of Gyzra trilogy, an action adventure manga series that took 10 years of dedicated work to complete. Most recently Sarah worked on the Lux Primora project as Art Director, Character Concept Artist and 2D Game Artist before completing her studies at CGVerse for Stylised Character Concept Design with David Ko.

Sarah will be exhibiting her work at MCM London from 28th - 30th October at the Excel. Her stall location is C-07 in the Artist Alley.
Lux Primora
Sarah was the Art Director and a concept and game artist for the now cancelled Lux Primora project. Sarah created the cover art, concept art for several protagonists and NPCs, some in game sprites and an animated run cycle. Check out the video to see much of Sarah's work, including all of the artwork for the lore trailer at the beginning of the video.
For more information about the project check out the Kickstarter page or for behind the scenes artwork check out Sarah's ArtStation.
Patreon!
If you would like to see artwork before anyone else and receive exclusive benefits and artwork requests, please check out Sarah's Patreon here!

Sarah shares work in progress images, behind the scenes sketches, fan art illustrations and process videos on her exclusive Patreon feed.

"Patreon allows me to keep making the art I love every day. Thank you so much to everyone who supports me on my art journey." <3
Right: Fan art of the UK TV show, Taskmaster, available for download from Patreon.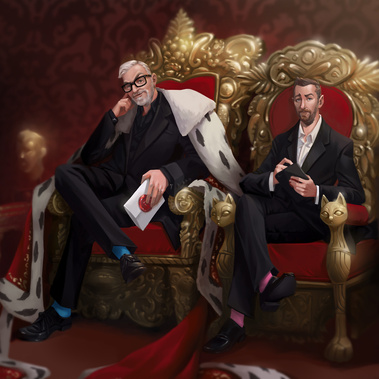 Contact Sarah
Please enter your message here to discuss hiring Sarah for your upcoming games project or to commission an artwork. For my concept art portfolio please look at my ArtStation.
FAQ
Are you looking for work right now?
I am very interested in working within the games industry, particularly in the concept art, illustration or game art sectors. I would love the opportunity to work with you!
Copyright relating to other Companies
Gyzra Ink and Sarah Childs work hard to ensure that artwork adheres to fair use and transformative copyright laws. Gyzra Ink also works hard to ensure that no artwork intrudes on the original creators intellectual copyright and works to support and develop the various fan communities. However, if you are the copyright holder of a piece inspired by your work, and have any issues with artwork that is being sold, advertised or produced via Gyzra Ink, feel free to contact immediately and the appropriate actions will be taken. Thank you.
Copyright relating to Gyzra Ink
Gyzra Ink encourages the creation of fan art and anything that helps to develop and support the Gyzra Ink community. If you wish to sell work relating to Gyzra Ink property you must contact Gyzra Ink first for written permission. Direct copies of artwork is not acceptable and each manga has it's own copyright statement printed on the first page which must be adhered to. If you have any questions feel free to contact Gyzra Ink.
Do you have an ArtStation?
Yes. You can find me on ArtStation here.
What art tools do you use?
For digital work I use PhotoShop CS5. I use a Cintiq 13HD tablet for most work and use an iPad with Procreate for sketches.
For traditional artwork I use mostly ProMarkers for colouring and Steadtler fine liners for line art. I also use a Sakura white gel pen for highlights and a Palomino Blackwing 502 for sketching. A G-pen and Sumi Ink were used in the creation of The Chronicles of Gyzra.
Did you go to art school?
I applied to The School of Visual Arts in Manhattan, New York and was accepted. However without a scholarship I could not afford to go. Instead I decided to stay in the UK and work on my manga series and artwork.
How much will my commission cost?
Please drop me a message and we can discuss this.
Can you draw this for me for free/charity?
No. Drawing puts a lot of strain on my hand which has suffered several injuries throughout my art career, therefore I only work on paid commissions or my own projects. Commissions that have been paid in advance or have a close deadline will always be worked on first.
Can I ask your advice about something/interview you for a school or work project?
Of course! Feel free to email me and I will get back to you as soon as I can.
Can I talk to you/hug you at a convention?
I will always give as much time as I can to anyone who visits me and yes, I love hugs! (but please ask first!) If I am busy at the stall, feel free to wave and say hi and pop by again when it's a little quieter so I can give you more time. You can always email me if you want a longer chat. I would love to see you at my next convention!
Email: sarahchilds@gyzra.com

Tel or Text: 07595 423 395 (Please leave a message.)
Qualifications
Stylised Character Concept Design at CGVerse with David Ko
Mentored by Istebrak
The Oatley Academy Magic Box Program
Business Accounting Short Course
A Levels: Art, History, ICT
AS Level: English
GCSE: A*A* Applied Art, A* Graphics, Distinction ICT
Published work
Lux Primora Demo, an indie JRPG project
The Chronicles of Gyzra Courage and Hope
The Chronicles of Gyzra Wisdom and Strength
The Chronicles of Gyzra Truth and Lies
Aesthetic Warriors